HTC Desire 310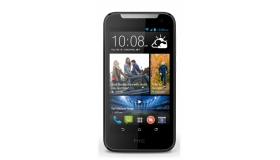 | | |
| --- | --- |
| Rating | |
| Price | $105.00 - $145.00 |
Screen size matters, thumbs up on that, 4.5 inches at this phone's price, is a good deal.
Performance is average - powered by a 1.3Ghz quad core processor and 1GB RAM, you certainly will enjoying using it.
There are two cameras, 5MP rear and a VGA one on the front. You won't really brag about the photos you take, but the front camera will at least enable you to do video calls, something most phones at this price range won't be able to do. It has no flash, so there will be no taking photos at night or in poorly lit rooms.

Battery life isn't so bad, considering you will be limited to what you can do (see next paragraph), you will be able to at least use it for the whole day without worrying much about finding a power source to charge your phone. The phone can last the whole month on stand by and has a talk time of about 10-11 hours.

One major flaw: internal storage, with the size of this phone, you would want to load lots and lots of apps, but you won't be able to. 4GB internal storage with only about 2GB available for you, it defeats the whole purpose of having a big phone.

My verdict: This phone is good for you only if you are interested in making calls and texting (sms, Viber Whatsapp etc). If you are into any other kind of apps - gaming, office productivity etc, find something with more storage.