You are here: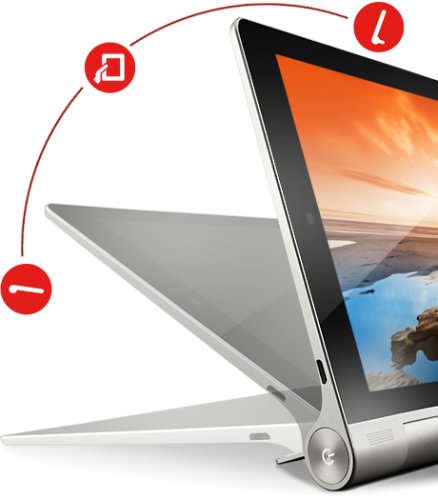 Innovative Multimode Design
Yoga Tablet 8's pioneering design incorporates a battery cylinder and kickstand on the side of the device, shifting the center of gravity and opening up multiple usage modes: Hold, Tilt, and Stand. In hold mode, the weight of the device falls into your palm rather than your fingers, making it more comfortable for reading and browsing. Lay it down for Tilt mode and you have a perfect viewing angle for typing or gaming. Flick the kickstand and rest it upright in Stand mode to comfortably watch videos, listen to music, or video-chat.


Epic Battery Life
Yoga Tablet 8 keeps going over the long haul with its off-the-charts battery life. Its battery lasts up to 18 hours* so you can go all day — and into the night — without recharging. The secret: Yoga Tablet's unique, cylinder-shaped side chamber allows more room for battery storage — and more time between charges.
Battery life may vary based on usage, refer to http://www.lenovo.com/battery-info/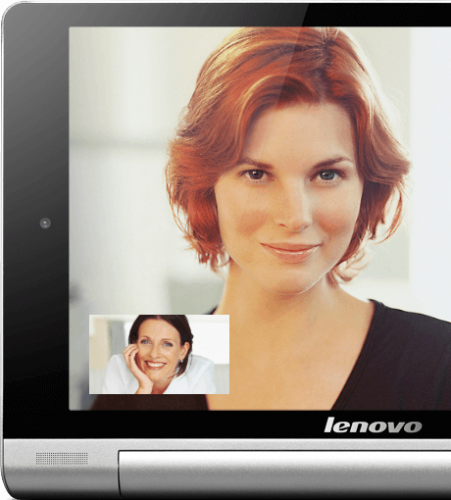 A Better Way to Watch
With the Yoga Tablet 8's epic battery life, you can watch videos longer (up to 14.5 hours) than with competing products. And what's more, Stand and Tilt modes allow you to stream TV, watch movies or browse YouTube clips at a comfortable angle.
Great Visuals with a Wide Viewing Angle
The Yoga Tablet 8's eight-inch HD (1280 x 800) display delivers stunning high definition visuals — and you and your friends can enjoy them from a wide, 178 degree viewing angle thanks to the display's in-plane switching (IPS) technology.
Stylish Design
The Yoga Tablet 8's groundbreaking design doesn't just optimize the tablet experience — it also looks great. The device tapers to a mere 0.1" at the edge, a laser-etched back housing prevents scratches and makes it comfortable to hold, and chrome-painted trim completes the look.


Great Connectivity Options
Integrated Bluetooth, 802.11 b/g/n WiFi and GPS keep you connected.
Dazzling Audio
Unlike most tablets, the Yoga Tablet 8's speakers face front — toward you — rather than to the side or out the bottom. Combine that with Dolby® Digital Plus enhancement and you have a rich, immersive sound experience that's perfect for watching videos or listening to music.
Front and Rear Cameras
The 5.0M rear and 1.6M front cameras let you take high-definition pictures and enjoy crisp, clear video chats.
Micro-SD Card Storage Support
Expand the Yoga Tablet 8's native eMMC storage with up to 64GB micro-SD card storage support — perfect for transferring photos or storing large files like movies.


Attribute
Value
Operating System
Android 4. 2 JellyBean
Memory
RAM: 1GB LP-DDR2 memory
Internal Storage: 16GB/32GB eMMC
External Storage: 64GB micro-SD card storage support
Camera
5M Rear Camera
1.6M HD Front Camera
Display
Yoga Tablet 8: 8" HD display (1280x800) with multitouch & 178 wide viewing angle
Yoga Tablet 10: 10.1" HD display (1280x800) with multitouch & 178 wide viewing angle
Processor
MT8125/8389 Quad Core 1.2GHz
Battery
Yoga Tablet 8: Up to 18 hrs of WiFi web browsing, Li-Ion, 6000 mAh
Yoga Tablet 10: Up to 18 hrs of WiFi web browsing, Li-Ion, 9000 mAh
*Stock AC adapter recommended for all charging.
Connectivity
WiFi 802.11 b/g/n
Bluetooth 4.0
Micro USB (Supports OTG function)
3.5 mm Audio Jack
Sensors
E-compass
Accelerometer (G-sensor)
GPS
Brightness (Ambient Light)
Vibration Function
Product can be returned within 48 hours of delivery
You need to login to make a review