You are here:

Brilliant Display
The ultra-sleek Galaxy Note 10.1 2014 Edition has more than four million pixels – 2M more than HDTV. And with a pixel density of 299 PPI, colors are rendered much brighter and everything's lifelike and clearer. Combined with Virtual Dolby 5.1 Surround Sound, an incredible cinematic experience is available wherever you go, even if you go outside. The Galaxy Note 10.1 has an unrivaled outdoor luminance of 400 nit.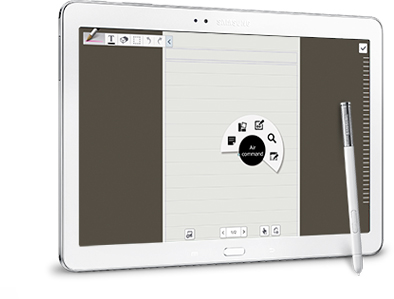 Intuitive S Pen
The enhanced S Pen offers more ways to get things done than ever before. Jot down phone numbers, contact info, even text messages and Samsung's handwriting-to-text engine automatically converts your notes to text. Save time by hovering S Pen over the screen and pressing the button on the side to bring up the Air Command menu. It gives you quick, easy access to incredibly helpful functions.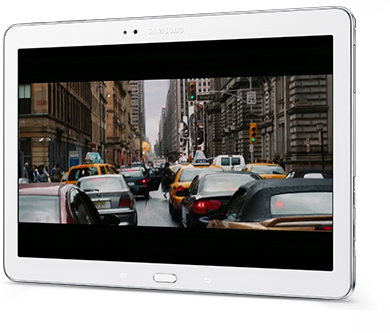 Amp Up Your Downtime
Stream all your favorite movies and shows on the ultra vivid display, that also doubles as an e-reader for your books, magazines, newspapers and other content. And find all the popular apps such as Instagram, Pinterest and Facebook, as well as other apps designed specifically for use with the S Pen at the Google Play Store. You can also use Galaxy Note 10.1 as a universal remote and TV guide with Samsung's WatchON app.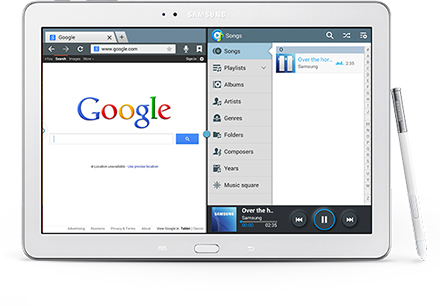 Do More with Multi Window
Make the most out of the big screen with Samsung's Multi Window* feature. Multi Window gives you the power to use multiple apps side by side, or drag content from one app to the other-you can even open the same app in both windows. This is especially useful when you're referencing two different websites or writing two emails at the same time.











Attribute
Value
Operating System
Android 4.3 (Jelly Bean)
Screen Size
10.1
Battery
Li-Polymer 8,220mAh
WiFi
802.11 a/b/g/n/ac
Bluetooth
4.0
CPU Name
Exynos 5 Octa
CPU Speed
1.9GHz Quadcore + 1.3 GHz Quadcore
Storage Capacity
16GB
Display
WQXGA (2560 x 1600)
Camera
CAMERA RESOLUTION (FRONT) 2.0 MP

CAMERA RESOLUTION (REAR) 8.0 MP
Product can be returned within 24 hours of delivery
Phone should not have been used and all accessories and packages should be intact.
You need to login to make a review