Samsung Galaxy S3 Mini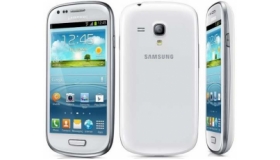 | | |
| --- | --- |
| Rating | |
| Price | $152.00 - $240.00 |
The Galaxy S series of smart phones is probably the most successful range of phones by Samsung and in this article, we get to know a little bit more about the Galaxy S3 Mini model, a replica but smaller version (not only in size) of the Galaxy S3.
Just because its mini does not mean this smart phone is in any way inferior in its own right. It will out perform most android based smart phones beyond reasonable doubt and will leave you wondering why they chose to call it "Mini" when it packs performance of a high end smart phone.
The S3 Mini resembles the Galaxy S3's design and inherits most of its features, although in most cases, a lower version of the S3 features. For instance, on S3 you would find a 1.4 GHz quad core processor but on the mini, you get a 1 GHz dual core processor.
There is an obvious performance advantage on the S3 but nevertheless, the S3 Mini's dual core processor will do justice to our everyday computing needs. The S3 is slightly smaller with a four (4") inch display, compared to the 4.3 inch display on the S3.
Despite the obvious differences between the S3 Mini and the S3, the Mini itself deserves its own attention without being compared to anything else.
The Galaxy S3 Mini features a 4.0 inch AMOLED touch screen display that offers a brilliant view of multimedia and web content in vivid color and outstanding clarity. The size of the device is almost perfect for a phone as it can comfortably rest in your palm, enabling you to use the device with one hand and at the same time being big enough to offer a software keypad thats easy to use.
Because of the gentle curves at the back edges of the phone, the Mini feels even more comfortable and smooth in your hands and thus they call it an organic design, inspired by nature.
The photo shooting capabilities of the S3 Mini are quite impressive, with its 5 Mega Pixel rear camera, equipped with a flash light and a 1.2 Mega Pixel front camera. The front camera is very important and useful for people who do a lot of video calls or those who shoot a lot of "selfies" for their Facebook profiles or for Instagram.
One thing that we don't really like about Samsung phones is how they add more color to your photos. Sometimes it comes out well when you are interested in emphasizing how colorful an object is, but sometimes you lose the natural feel of your subject because of how the camera captures the colors. In general, Samsung cameras do quite well in well lit conditions but may fail in low light conditions.
The S3 Mini runs with 2 GB of primary memory (RAM), making it a smooth running phone which can open and run most apps without noticeable drag. Its not as smooth as the S3 but hey, you can use it and not find it annoying at all. Most videos will also play smoothly, maybe just except for High Definition movies.
The operating system you will most likely find on the S3 Mini is Android 4.1.2 or 4.1.1. One thing we hate about Samsung is that it comes with a lot of pre-installed apps that you will rarely use and can't uninstall. For example in the S3 Mini you are likely to find "joyn", a chat application, or on some, "chat on".
Some of these apps that come pre-installed become a nuisance because you don't use them and yet can't uninstall them. However, not all is bad, most basic apps required of a smart phone come packed with the operating system making it easy to start using your phone straight from the shop.
You will find the basics like call, messaging, contacts, email, clock, calculator, internet browser, FM Radio, gallery, memo, files, planner, music and video player already installed. Just something that we found out with the Android Email app, use it, instead of the Gmail app. We will reveal the secret to why in the article "What to do with your new Android Phone" soon.
Part of the operating system we like on the S3 Mini are the very important shortcut keys in the pull down menu from the top of the screen. There are shortcuts for "Power Saving" mode, "Mobile Data" and "Sync". Most old versions of Android do not have these options and yet they are important and should be easily accessible. The other usual shortcuts are there as well, "Wi-Fi", "GPS" and so on.
One other interesting feature on the S3 Mini is "Smart stay" which detects your eyes with the front camera so that the screen stays on when you are looking at it. Pretty cool huh! This feature only works when the phone is docked or held and will not work when the phone is lying on its back, for example when placed on a table.