You are here:
The XPG (Xtreme Performance Gear) SX900 solid state drive is an expanded capacity SSD which uses new optimized firmware to utilize greater storage capacity of the NAND Flash components. With superior NAND Flash, the XPG SX900 SSD reaches new levels of stability and performance. The drive breaks new ground in storage capacity for SSDs utilizing the SandForce 2281 controller, reaching 512GB, a 7% increase over common SSDs in the market that use a SandForce controller. This represents a milestone in ADATA's history of NAND Flash based products.
Super full capacity with high performance
The XPG (Xtreme Performance Gear) family of products has been expanded to include solid state drives, and the XPG SX900 SSD is a perfect match for the performance requirements of this elite group. Its maximum sequential read and write speeds are 560/540 MB per second, with maximum random 4k write speeds as high as 91,000 IOPS. With capacities of 64, 128, 256, and 512GB, the XPG SX900 SSD is poised to take its place as a market and performance leader.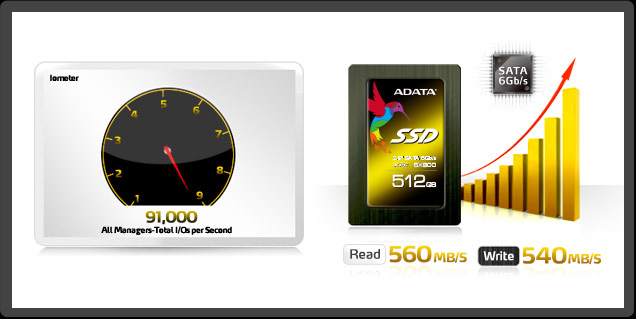 Supports Windows TRIM Command, Accelerated Data Transfer Performance
The XPG SX900 SSD adopts specially selected Flash chips from reliable manufacturers, and supports the Windows TRIM command. The Windows TRIM optimization command can directly delete stored data in the Flash memory and release unused space (Free Blocks) to be used for system writes immediately. This results in more accelerated transfer and write performance for solid state drives, and is also effective in slowing down efficiency decline and depletion chances, maintaining effective operation and extending the life of the disk.
In both desktop and notebook computers, users will enjoy an unprecedented high-speed experience when they edit video, retouch large picture retouching, and use computer drafting, reading and writing operations.
The SX900 comes in two packaging configurations, to meet your specific needs
Desktop Pack
Comes with a 3.5-inch conversion bracket to help you mount the SX900 when you are upgrading a desktop computer, allowing you to immediately enhance the performance and transmission speed of your operating system.
Notebook Pack
The SX900 Notebook Pack allows you to easily upgrade your laptop computer with a premium solid state drive, while using the original hard disk as an external drive. To make use of the SX900 as an internal disk drive for your laptop, simply remove the existing hard disk, and install the SX900 into the laptop drive slot. Install the old hard disk in the case provided, and continue to use it as either an external or portable drive. It also comes with a 3.5-inch conversion bracket to help you mount the SX900 when you are upgrading a desktop computer.
Attribute
Value
Interface
SATA 6Gb/s
Form Factor: 2.5 inch
Storage Capacity
512GB Multi-Level Cell (MLC) NAND Flash Memory

Read: Up to 560MB/S
Write: Up to 540MB/S
Multimedia Data Transfer (AS-SSD)
Read : Up to 490MB/S
Write : Up to 260MB/S
MAX 4K write IOPS up to 45K
Product can be returned within 48 hours of delivery
You need to login to make a review