You are here:
The SP310 mSATA Solid State Drive is a superb option for upgrading the performance of your laptop or desktop system. It brings all the advantages of solid state storage: reduced heat & noise, low power consumption, and of course increased transfer
speeds of up to 540MB/sec read and 280MB/sec write. It can be utilized as a cache drive when used in conjunction with a hard disk drive, or serve as standalone primary storage (boot drive).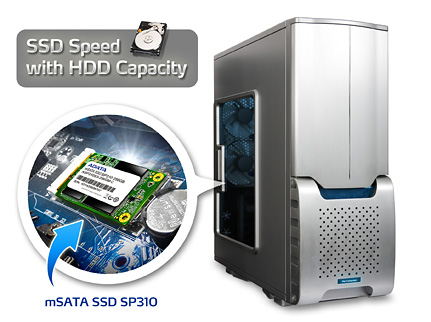 SSD + HDD = Best of Both Worlds
With a SSD?HDD hybrid setup, the mSATA SSD acts as a cache drive instead of main storage. Using this configuration, systems can reach speed boosts comparable to systems with SSDs as primary drive, while still enjoying the larger storage capacities of a mechanical hard drive.
Cost-Effective System Enhancement
With a JMicron controller and Multi-Level Cell (MLC) NAND Flash chips, the SP310 delivers up to 76,000 IOPS. When used in a hybrid configuration, performance is nearly that of systems using SSD as primary drive, but at a much lower cost.
Configuration: CPU: Intel i5-3317U ; MB: HP 9470m-C8J99 ; RAM: ADATA DDR3 1600 4GB x 2 ; mSATA: ADATA Premier Pro SP310 32GB ; HDD: Hitachi HTS725050A7E630; OS: Windows 7 SP1 (64 BIT)
* Data is based on internal testing, actual results will vary according to different platforms or software.
Broad Hardware Compatibility
The SP310 is small and light, measuring only 50.95 x 30 x 4mm. It is applicable to many motherboards on the market that have an mSATA slot, including Z77 series motherboards (ASUS Maximus v Gene; Gigabyte G1 Sniper 3, Z77X, and Z77P, Z77, H77, P75, B75; Asrock Z77E-ITX), Z68-series motherboards (Gigabyte Z68XP-UD3, Z68XP-D3, Z68AP-D3, and Z68P-DS3), as well as laptops (Acer TM8481G; micro-GT70).
*For more detailed information on compatible hardware, refer to the website of the relevant notebook and motherboard manufacturer.
Supports Intel® Smart Response Technology
Intel Smart Response Technology (ISRT) is a caching mechanism for Z68 chipsets (Sandy Bridge–series processors), which allows a SATA Solid-State Drive (SSD) to function as cache for a mechanical hard disk drive. Setting up the Premier Pro SP310 with ISRT is convenient and quick.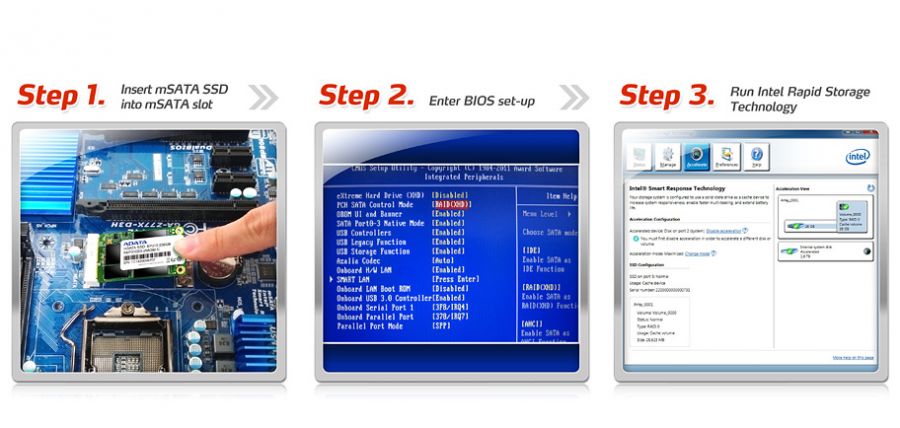 Attribute
Value
Interface
SATA 6Gb/sec
Form Factor: Full size mSATA
Controller: JMicron JMF-667 series
Storage Capacity
32GB Multi-Level Cell (MLC) NAND Flash Memory
Read: Up to 365MB/S
Write: Up to 50MB/S
Multimedia Data Transfer (AS-SSD)
Read : Up to 340MB/S
Write : Up to 50MB/S
MAX 4K read/write IOPS up to 40/15K
Product can be returned within 48 hours of delivery
You need to login to make a review