You are here:
The Lenovo IdeaPad E10 30 Netbook is a compact, all in one portable computer that is sure to exceed all your computing requirements. This advanced device comes embedded with Intel Celeron N2830 processor that seamlessly executes of all the features and applications of the portable computer. The onboard 2GB RAM makes toggling between multiple applications easy. The device also features Intel's HD Graphics GPU, which effectively powers all the graphics applications like games. The GPU and the processor also help the device produce 1366 x 768p resolution images on its 10.1inch HD LED panel display. The mobile computer comes installed with the Windows 8 operating system, which offers faster boot time, access to Windows app store, SkyDrive integration, better security, and much more. The laptop's 500GB HDD easily saves volumes of digital data files such as videos, photos, apps, and more. Access to the Internet is provided by the system's built in WiFi and Ethernet port, which instantly connects this system to high speed Internet.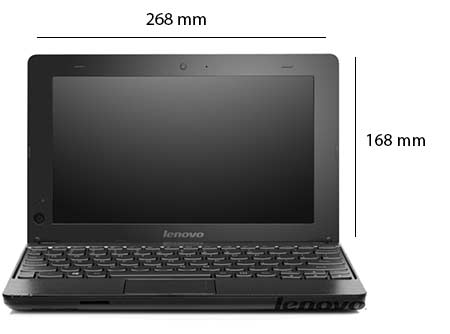 DESIGN AND DISPLAY
The Lenovo IdeaPad E10 30 Netbook's big 10.1inch HD LED panel display lets you view all your games, movies, photos, and more in stunning high definition. The display churns out 1366 x 768p resolution images that are head turning. The system's full keyboard and ultra responsive trackpad make it easy to operate this device with the utmost ease.
HARDWARE AND OPERATING SYSTEM
The Lenovo IdeaPad E10 30 Netbook comes fitted with Intel's Celeron N2830 processor. The device even comes integrated with a 2GB DDR3L RAM that lets you multitask at the snap of a finger. Microsoft's fast, intuitive, and easy to operate Windows 8 operating system comes installed on this computer that makes using this advanced device easier.
MULTIMEDIA
The Lenovo IdeaPad E10 30 Netbook is crammed with multimedia options that will surely keep you entertained while on the move. The netbook's 0.3MP webcam makes your video calls thoroughly engrossing. The Windows 8 operating system that comes installed on this device brings numerous multimedia applications at your fingertips via its online App Store.
CONNECTIVITY
The Lenovo IdeaPad E10 30 Netbook's advanced WiFi helps you connect this netbook to high speed wireless Internet in an instant. Its 10/100 Ethernet port can support high speed wired Internet connections. A USB 3.0 port and two USB 2.0 ports also come embedded on this device for the purpose of data transfer and charging. The netbook also features Bluetooth 4.0 connectivity option.
BATTERY
The Lenovo IdeaPad E10 30 Netbook's powerful 2200mAh battery eliminates the need for frequent charging. The battery can last for a long time to come on a single charge.
Attribute
Value
Operating System
Microsoft Windows 8.1 Single Language Edition 64bit
Processor
Intel Celeron Dual Core N2840 2.16GHZ 2MB L3 Cache Processor

Memory
2GB DDR3-1333 SO-Dimm Memory (1x2048), Supports 8GB Max Mem,
500GB 5400rpm SATA Hard Drive

Battery
6 Cell Battery
Display
10.1" WXGA HD (1366 x 768 resolution) Glossy Type LED Backlit Display
Intel HD graphics,
Connectivity
802.11b/g/n Wireless Lan,
10/100 Mbit Ethernet LAN,
Webcam,
USB 3.0 ports,
HDMI output,
Bluetooth



Product can be returned within 48 hours of delivery
You need to login to make a review