You are here:
ASUS GT 630 delivers efficient multimedia and gaming performance
Dust-proof Fan design increases particle resistance and extends card lifespan by up to 25% longer than reference.
Premium alloys in power delivery components defeat heat for cards that run 15% faster and last 2.5 times longer than reference.
GPU Tweak helps you modify clock speeds, voltages, fan performance and more, all via an intuitive interface.
Dust-proof Fan
25% longer graphics card lifespan
Unique fan design dissipates heat efficiently while extending a graphic card's lifespan by 25%* through increased dust and particle resistance.
Super Alloy Power
Enhanced durability and cooling
The exclusive alloyed components helps boost performance by reducing power loss, enhancing durability and achieving cooler operation. The chokes' concrete core eliminates the buzz sound in full load while the capacitors assure a 50,000 hours lifespan - equivalent to 2.5 times longer than traditional capacitors.
GPU Tweak
Real-time intuitive graphics tuning
Shows detailed specs and actual card status with GPU-Z
Monitoring widget provides real-time detailed multi-parameter info
Automatically checks and updates drivers and BIOS versions
2GB DDR3 Memory
On-board memory for the best gaming experience & the best resolution.
Powered by NVIDIA® GeForce® GT 630
NVIDIA® Adaptive V-Sync
Get more than just faster frame rates. Get ultra-smooth gaming every time with NVIDIA® gaming innovation Adaptive Vertical Sync. This technology dynamically adjusts vsync to current frame rates for maximum playability.
NVIDIA® PhysX™ ready
Dynamic visual effects like blazing explosions, reactive debris, realistic water, and lifelike characters.
DirectX® 11 Support
Bring new levels of visual realism to gaming on the PC and get top-notch performance
Microsoft Windows 8 compatible
Gives you access to advanced computing experiences with the latest operating system so you get more done with your PC.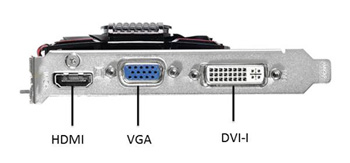 1 x Native D-sub Output
1 x Native DVI Output
1 x Native HDMI














Attribute
Value
General Information
No UEFI support.
* No native UEFI BIOS support, for UEFI BIOS, please download from ASUS technique support site. (The update tool only for ASUS MB.)
Power
up to 75W, no additional PCIe power required
Resolution
DVI Max Resolution : 2560x1600
Interface
Bus Standard: PCI Express 2.0
D-Sub Output : Yes x 1
DVI Output : Yes x 1 (DVI-I)
HDMI Output : Yes x 1
HDCP Support : Yes
Software
ASUS GPU Tweak & Driver
Memory
2GB DDR3 RAM
Memory Interface: 128-bit
Memory Clock
800 MHz ( 1600 MHz DDR3 )
Processor
NVIDIA GeForce GT 630
Engine Clock: 700 MHz
CUDA Core: 96
Product can be returned within 48 hours of delivery
You need to login to make a review