You are here:
The optimal choice for small to medium sized businesses - A professional NAS server suitable for use in all environments
Windows + Mac + Linux cross-platform file sharing
Outfitted with SuperSpeed USB 3.0 and SATA III ports
Support for Windows Active Directory
Military grade AES 256-bit encryption for individual shared folders
Support for RAID 0, 1, 5, 6, 10 and hard drive hot swapping
Uninterruptible dual power supply (AS-604RD)
Your Data is Safe with Us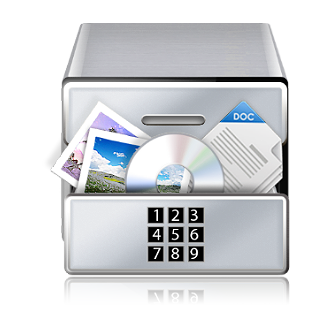 You no longer need to worry about accidentally losing your vital documents. ASUSTOR NAS devices provide you with a complete host of data protection and backup solutions to look after your most important information, creating a stress free and liberating user experience.
Optimal data security solutions – abundant data protection and backup features
Using backup utilities such as Backup Plan and Apple Time Machine you can easily backup data from a Windows PC or Mac directly onto an ASUSTOR NAS device. ASUSTOR NAS devices also offer a variety of different RAID configurations, allowing you to select the most appropriate configuration for your security needs.
Moreover, our NAS devices also support a multitude of two-way sync and backup options. Besides backing up your data onto a NAS device, you can also further back up the data from a NAS device onto other devices. ASUSTOR NAS devices support backup via the cloud, external hard drive, Rsync and FTP. In the unfortunate event of a disaster, you will be able to recover and restore your data with the utmost speed, thereby helping you to avoid the damage that can be caused by lost data.
iSCSI and Virtualization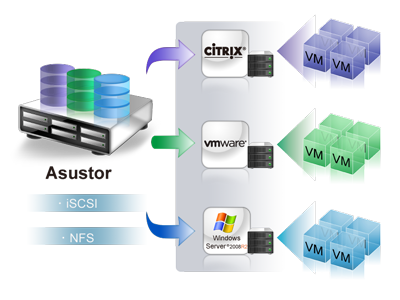 ASUSTOR recognizes that stable and efficient shared storage is a must for your virtual environment. The supported use of iSCSI and NFS allows you to seamlessly integrate with any existing IT environments. Additionally, all ASUSTOR NAS devices are verified as VMware, Citrix and Hyper-V ready, providing you with a flexible and cost-efficient virtual storage solution.
The iSCSI features supported by ASUSTOR NAS devices include:
- LUN Mapping
- LUN Masking
- ISO File Mounting
- MPIO & MCS Support
- Persistent (SCSI-3) Reservations
Unleash unlimited potential
The applications that come pre-installed with each ASUSTOR NAS device are just the beginning. At your convenience, you can browse through and download any applications that peak your interest from App Central. App Central allows you to explore the unlimited potential of ASUSTOR NAS devices while creating a personalized NAS device for yourself.
Whether your interests lie in business, website construction or even digital home entertainment, App Central provides you with the boundless variety of applications that you require to satisfy your digital lifestyle needs.
Protect our Planet with ASUSTOR
As a responsible citizen of the Earth, it is our mission to continue to develop superior energy saving and energy efficient products. From their inception, all ASUSTOR NAS products are designed and developed around ecologically friendly concepts. When in use, our devices consume far less power than the average computer or server. Furthermore, our advanced power control features allow you to more efficiently manage your NAS device and hard drives. This lowers your electric bill and prolongs the lifespan of your hard drives all at the same time.
All ASUSTOR NAS products are constructed in accordance with RoHS standards and use recyclable packaging materials, striving for the smallest ecological footprint possible.
Embrace the Cloud, Enjoy Peace of Mind
ASUSTOR NAS devices allow you to enjoy the conveniences of cloud computing, while simultaneously providing you with data security of the highest standard.
All our devices come pre-installed with ADM Defender, which protects your data against all malicious attacks. Secure multitenancy and SSL encryption allow all users to access their data in a protected and stress free environment. As well, our NAS devices also support military grade AES 256-bit encryption for each individual shared folder, giving you the type of security and privacy that you require for your most confidential data. This means that, should you lose your NAS device, you still needn't worry about your sensitive data falling into the wrong hands.
In addition to providing security for your data, ASUSTOR also caters to your other security interests. Our pre-installed Surveillance Center lets you collectively manage an array of IP cameras. Through the power of the Internet, you can keep an eye on all of your valued interests. In the event of any disruptions, Surveillance Center will notify you at once.
Attribute
Value
Software
Operating System: ADM 1.0 Onwards, Built-in App Central for Various Apps

Supported OS:
Windows XP, Vista, 7, 8, Server 2003, Server 2008, Server 2012
Mac OS X 10.6 Onwards
UNIX, Linux, and BSD
Memory
RAM: 1GB SO-DIMM DDR3 (Expandable. Max. 3GB)
HDD: 2.5" or 3.5" SATA II/ III x 4 (not included)

Connectivity
Supports USB/eSATA3 External Storage Devices
USB Wi-Fi Dongle Support
Bluetooth Dongle/Speaker Support
USB Printer Support
USB DAC/IR Receiver/Keyboard/Mouse Support
Expansion: USB 3.0 x 2, USB 2.0 x 4, eSATA x 2
Output: HDMI 1.3a x1
Network Support
Network: Gigabit Ethernet x 2
TCP/IP (IPv4 & IPv6)
Link Aggregation: Supports 802.3ad and Six Other Modes for Load Balancing and/or Network Failover
Jumbo Frame (MTU)
VLAN
Cloud Connect
Wireless Network
DDNS and EZ-RouterCompatibility
Supports Wake-on-LAN (WOL)

CIFS/SMB, AFP, NFS, FTP, WebDAV, Rsync, SSH, SFTP, iSCSI, HTTP, HTTPS, SMB 2.0*, TFTP*, Proxy*

*ADM 2.3 Onwards
Power
Input Power Voltage: 100V to 240V AC
Power Consumption: AS-604RD: 49.8W (Operation); 37.5W (Disk Hibernation); 6.42W (Sleep Mode)
Product can be returned within 48 hours of delivery
You need to login to make a review