You are here:
Windows + Mac + Linux cross-platform file sharing
A multimedia hub for your photos, music and movies
Your complete backup solution
Designed for energy efficiency and quiet operation
SMB 2.0 support increases Windows networking performance by 30%-50%
High performance technology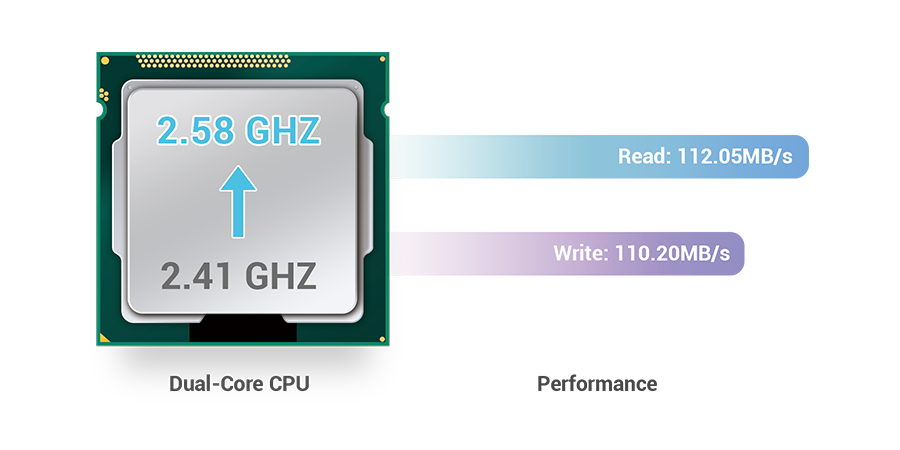 An Intel Celeron 2.41GHz Dual-core processor and 1GB DDR3L memory, provide premium, energy efficient processing power. With read/write speeds of up to 112 MB/s, the AS50 series' excellent performance is sure to satisfy your storage application needs.Furthermore, when AS50 series devices need more computing power, they can increase the CPU computing power from the original 2.41 GHz to 2.58 GHz, providing a smooth and seamless experience.
*Performance results may differ depending on the testing environment.
Effortlessly upgrade memory
Depending on your usage preferences, you can decide whether or not you want to upgrade memory. AS50/51 devices provide users with the ability to flexibly upgrade memory so there is no need to worry about the memory before you purchasing the device. When upgrading memory, you simply need to remove the cover of the NAS to do it (There are 2 expansion memory slots in total. Memory can be expanded up to a maximum of 8GB.), letting you easily improve system performance and allowing your NAS to simultaneously run more Apps.
Metallic design
Different from other NAS devices on the market which feature plastic cases and suboptimal cooling, the AS50/51 devices feature aluminum casing along with a rust and corrosion resistant coating which combines with the metallic hard disk trays to fully make use of the natural cooling properties of metal. This significantly enhances the entire cooling ability of the system.
Save power to save money
ASUSTOR NAS products are designed and developed around ecologically friendly concepts. When in use, our devices consume far less power than the average computer or server. Furthermore, our advanced power control features allow you to more efficiently manage your NAS device and hard drives. This lowers your electric bill and prolongs the lifespan of your hard drives all at the same time.
While in disk hibernation, the AS5004T consumes only 12.1 W of power. Under normal operating conditions it still only consumes 30.8 W of power. Combined with the S3 instant wake function, this allows for a large degree of flexibility when configuring power schedules for your NAS, allowing you to significantly decrease the amount of power you use.
*Performance results may differ depending on the testing environment.
Expand your storage space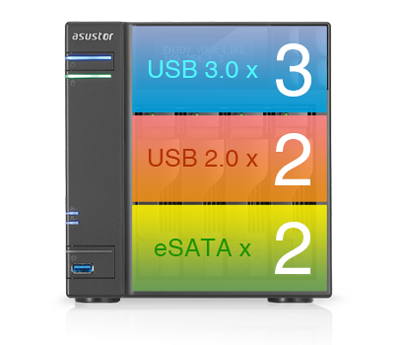 A professional grade NAS needs to be equipped with a diverse array of expansion functionality. In addition to the 4 drive bays, we have also included 2 USB 2.0 ports, 3 USB 3.0 ports and 2 eSATA ports, allowing you to create a tailored storage space for both your work and entertainment needs.
AS50/51 devices emphasize the flexibility of expandable capacity, providing more expansion slots than any other devices in their class. With this many expansion slots, the only question that remains is how you are going to fill up all that storage space!
Increased reliability and speed
The built-in dual Ethernet ports combined with the link aggregation function, allows your NAS to maintain its connection even if one of your Ethernet connections fail, significantly decreasing the likelihood of unexpected disconnections.Additionally, link aggregation provides faster transfer speeds than a single connection could, along with load balancing which automatically balances network traffic load across the two connections, making it the optimal choice for users who require high speed reliability.
High Quality Audio Output with S/PDIF
Turn your NAS into your digital music hub and let ASUSTOR's 50/51 Series devices take your local audio playback to another level. You can use SoundsGood or iTunes Server to play high quality digital music from your NAS and further combine it with S/PDIF high fidelity optical output for a
unmatched listening experience that will truly bring your music to life.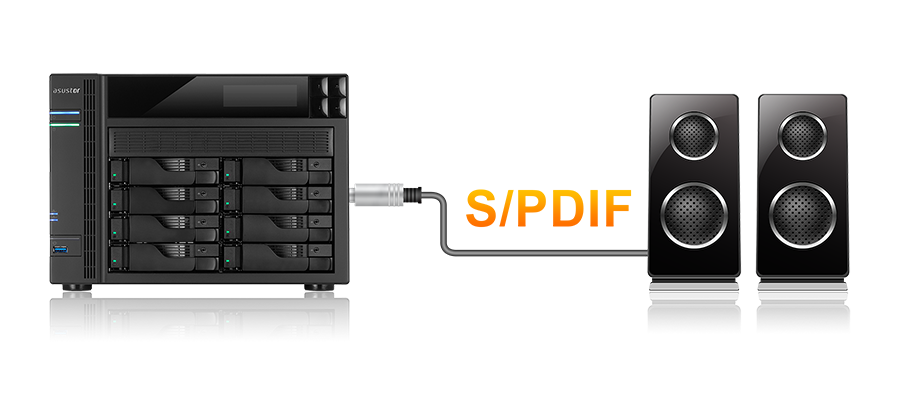 Create the Ultimate Home Multimedia Center
Enjoy electrifying digital entertainment on demand with ASUSTOR NAS. The built-in HDMI interface and variety of multimedia Apps let you to enjoy all of your favorite multimedia from your NAS by directly connecting it to an LCD/LED TV or amplifier.
ASUSTOR NAS supports Full HD (1080p) output, allowing you to savor your movies, TV shows, music and photos in high definition. What's more, through ASUSTOR's App Central, you can install additional multimedia server Apps such as UPnP Media Server and iTunes Server giving your NAS the ability to stream multimedia content to your computers, TVs and mobile devices.
Additionally, you can also further add a surround sound amplifier to create an unprecedented high definition multi-channel listening experience. Imagine watching your favorite racing movie and being immersed in the roar of the engines. Feel the thrill and the sense of speed as you listen to the sounds of cars whizzing by. Prepare for an unparalleled entertainment experience that will have you on the edge of your seat.
*Currently, 2160p(4k) is only available on the 70 series.
**Currently, XBMC 13/Kodi is only available on the 50/51/70 series.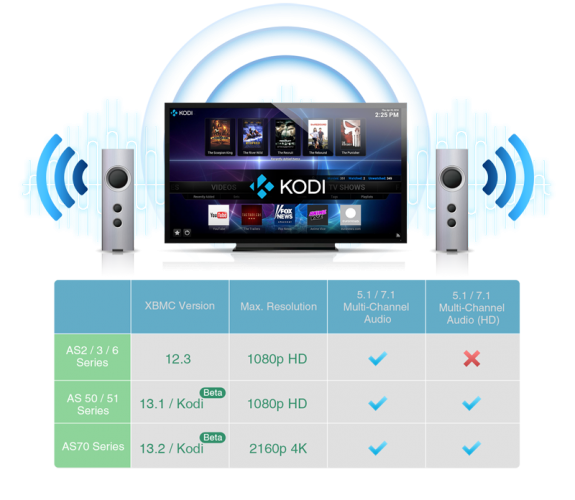 Even More Reliable After-Sales Service
ASUSTOR has extended the warranty period on all of its products to three years, continuing to make customer service a huge priority. It is ASUSTOR's mission to continue to provide its customers with products of the highest quality along with only the most reliable and attentive after-sales service and technical support.
Backup Everything
No matter if you are using Windows, Mac or even Linux, ASUSTOR provides you with suitable backup solutions and protocols to help you backup all your data.
Windows Environment
ASUSTOR's exclusive Backup Plan utility lets you configure up to 6 different backup plans simultaneously. You can configure regularly scheduled backups of your important data and also sync the ever-changing files on your desktop to your NAS.
Mac Environment
ASUSTOR NAS supports Apple Time Machine backups allowing you to backup your Mac to your NAS. Different Mac users can also safely backup their computers to the same ASUSTOR NAS device.
Linux Environment
ASUSTOR NAS supports NFS/Rsync/SAMBA protocols giving you added flexibility when setting up your backup environment.
Quick and Easy File Access
The built-in File Explorer App allows you to access the files on your NAS through a Web browser. Enjoy drag and drop file transfers along with a directory structure view that lets you easily organize your data. Accessing files on your NAS never been easier.
Create a Stable, Reliable and High Quality Surveillance System
The powerful 50 Series devices provide you with stress free reliability when installing a surveillance system in your home or office environment. Installing the Surveillance Center App from App Central instantly turns your NAS into 24/7, high definition surveillance system. Surveillance Center provides comprehensive cross-platform support, allowing both Windows and Mac users to use familiar web browsers to access their surveillance feeds. Furthermore, ASUSTOR also offers the free AiSecure mobile app that gives users access to all their surveillance feeds while on the go. AiSecure also provides the ability to receive instant push notifications from Surveillance Center, allowing users to keep up with the latest developments. No matter if you need to protect individual assets, loved ones or your business, the powerful 50 Series devices are your optimal choice when creating a comprehensive surveillance system.
*Surveillance Center comes with 4 free IP camera channel licenses, which is higher than the industry standard. Users can also purchase add-on camera licenses to flexibly add new camera channels.
*Two different camera license packages are offered: single channel and 4 channels. Currently, the 50 Series devices can be expanded up to a maximum of 12 channels.
*The maximum number of cameras is based on the test results for each channel using 720P (1280x720), 30 FPS and H.264. Actual performance may vary due to camera settings and NAS load.
*In order to provide stable surveillance system resources, the local display function will be shut off after the NAS has enabled add-on licenses.
Attribute
Value
Storage Capacity
HDD: 2.5" / 3.5" SATA II/ III or SSD x 4 (not included)
Expansion: USB 3.0 x 3, USB2.0 x 2, eSATA x 2
Memory
RAM: 1GB SO-DIMM DDR3L (Expandable. Max 8GB)
Processor
CPU: Intel Celeron 2.41GHz Dual-Core (burst up to 2.58GHz) Processor
Connectivity
TCP/IP (IPv4 & IPv6)
Link Aggregation: Supports 802.3ad and Six Other Modes for Load Balancing and/or Network Failover
Jumbo Frame (MTU)
VLAN
Cloud Connect
Wireless Network
DDNS and EZ-Router
Supports Wake-on-LAN (WOL)
Supports USB/eSATA3 External Storage Devices
USB Wi-Fi Dongle Support
Bluetooth Dongle/Speaker Support
USB Printer Support
USB DAC/IR Receiver/Keyboard/Mouse Support
Network: Gigabit Ethernet x 2
Output: HDMI 1.4a x 1, S/PDIF x1
Software
Operating System: ADM 2.0 Onwards; Built-in App Central for Various Apps

Supported OS:
Windows XP, Vista, 7, 8, Server 2003, Server 2008, Server 2012
Mac OS X 10.6 Onwards
UNIX, Linux, and BSD
Power
Input Power Voltage: 100V to 240V AC
Power Consumption: 30.8W (Operation); 12.1W (Disk Hibernation); 1.8W (Sleep Mode)

Product can be returned within 48 hours of delivery
You need to login to make a review