You are here:
ULTRA-LIGHT. ULTRA-PERFORMANCE. ULTRA-DURABLE FOR BUSINESS
Extra secure and manageable
Windows 8.1 Pro or other editions available
Latest-generation Intel® Core™ processors with Intel® vPro™ Technology
Enhanced security with Trusted Platform Module and fingerprint reader
ASUSPRO Ultra Docking Station for greater expansion and connectivity
Designed professional
Ultra-light starting at only 1.27kg
True-comfort keyboard, responsive SensePoint and precision touchpad
Lay-flat 180-degree hinge, anti-glare HD/HD+ display with wide viewing angles
Enhanced durability
Extra-strict ASUS reliability testing to military standards
Durable carbon-fiber-reinforced LCD cover construction
Tough anti-shock hard drive protects your data
Spill-resistant keyboard protects from occasional spillages
Download the datasheet here »
The ASUSPRO BU201 Ultrabook personifies our promise to inspire and power your business. Starting at only 1.27kg, it's ultraportable but doesn't compromise on performance or durability. The 180º hinge opens flat to provide a 360º view. Tested to exceed the demanding MIL-STD 810G military standard, it offers extreme reliability and durability. The mobility, business-class security and manageability make it ideal for business people on the go.
Military-grade reliability: work without worries
Durable carbon-reinforced LCD construction
Through the use of UD carbon fiber materials, the ASUSPRO BU201 Ultrabook easily withstands the rigors of business travel. The LCD cover gives 20% higher panel pressure resistance compared to standard notebooks, offering better damage protection while remaining light. US military-standard quality testing includes enhanced drop testing at more than double the height and extra-strict hinge testing. The BU201 Ultrabook ships with an anti-shock hard drive that includes a G-sensor and hardware structure that protect the hard drive should it drop or impact with another surface. The spill-resistant keyboard repels higher volumes of liquid compared to industry standards.
Metal mounts and cushioned protection
ASUSPRO BU201 uses special metal mounting brackets around the hard drive that strengthen and protect the drive beyond mainstream standards. In addition, cushions of high-rigidity impact-absorbing material provide extra protection against shocks or drops when the notebook is turned off, for example during transportation.
Intelligent impact sensor
As an extra line of defense to keep your data safe and secure, the hard drive has a motion sensor combined with software that intelligently predicts imminent impacts and automatically takes action to minimize the risk of hard drive damage. The sensor is a 3D digital accelerometer with three levels of sensitivity — off, normal, and high. High sensitivity is the default setting, ensuring that impact detection remains active at all times.


Professional design: Complete comfort and productivity
The ASUSPRO BU201 Ultrabook has a stylish dark matte finish and one-piece construction that creates a subtle and completely consistent professional look. ASUSPRO engineers have fine-tuned the BU201's full-size, backlit true-comfort keyboard so it provides a more accurate click ratio and deep travel distance. The SensePoint™ pointstick simulates the functions of a regular mouse. It's pressure sensitive and can control the cursor to select and drag files. The touchpad has also been optimized, maintaining high precision while offering a bigger touch surface. The 180º hinge enables the notebook to be opened flat so the screen can be viewed from all angles. And the anti-glare display has a matte screen surface that prevents unwanted reflections and helps reduce eye fatigue. The ASUSPRO BU201 Ultrabook has a compatible accessory, an Ultra Docking Station that enables expansive connectivity.
Slim, light, stylish, professional
ASUS BU201 with a very neat and clean design, all the notebook pieces are using a one piece concept to reduce the unnecessary parts, gives a very simple but professional appearance image. From only 1.27kg and 20.6mm thinness also provide professional a more mobile and flexible working way, but slim doesn't mean lack of productivity, with full I/O port range connections without compromise, give you a whole new working experiences.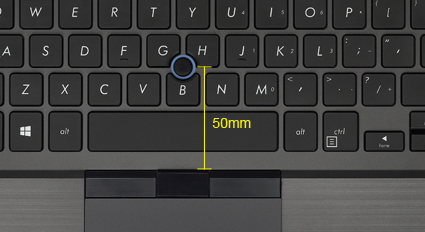 Full-size true-comfort illuminated keyboard
With its deep 2mm key travel and ergonomic 19.05mm key pitch — the same as a full-size desktop keyboard — BU201 is engineered for optimum comfort and ease of use. The gentle backlight ensures that typing is easy in poorly-lit environments or even in total darkness. Dedicated function keys allow quick and easy access to several features such as screen brightness, keyboard backlight, audio volume, touchpad/point stick switch, and external monitor control.
Ergonomic SensePoint and touchpad button design
Ergonomic design details are what make ASUSPRO notebooks so comfortable to use. The SensePoint and touchpad buttons are separated by precisely 50mm, which means you can select and scroll easily with one hand. SensePoint also has a dome-shaped cap that has been fine-tuned for the best feel.
Intelligent manageability: Smart and secure solutions
The ASUSPRO BU201 Ultrabook features the ASUSPRO Business Center, a simple, one-stop security and manageability solution specially designed for small businesses without a managed IT environment. Intel® Active Management Technology (AMT) and Intel® vPro processor allows IT staff to remotely control PCs. They're able to better discover, repair and protect their networked computing assets. The ASUSPRO BU201 Ultrabook incorporates fingerprint scanning that takes data access authorization and protection to a higher level. It uses sensors that are less affected by skin surface conditions such as dry, worn, calloused, dirty or oily skin.
Trusted Platform Module for robust, hardware-based security
Trusted Platform Module (TPM) is a hardware chip integrated on the motherboard that securely encrypts data, reducing the risks posed by hackers looking to capture password and encryption keys to sensitive data. TPM adds an additional layer of security and allows notebooks to run applications more securely, making transactions and communications more trustworthy. When used in conjunction with an optional security software package, it provides greatly improved overall system security, file protection capabilities, and email/privacy safeguards. TPM enables stronger security than that delivered by the BIOS, operating system, or any non-TPM application.
Improved security with fingerprint scanning
Fingerprint scanning ensures maximum security and data protection. The electronic fingerprint scanner in ASUSPRO BU201 uses radio-frequency (RF) imaging to read fingerprint patterns. RF is less affected than other sensor technologies by skin conditions such as dry, worn, calloused, dirty or oily skin.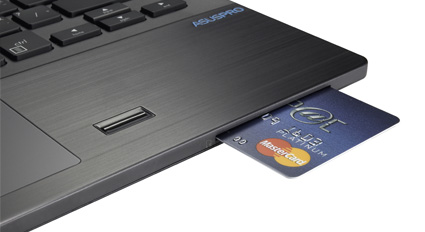 Smartcard-based identification
Supported on the ASUSPRO BU Series, smartcards can be used for identification, authentication, data storage, and application processing. Users can use them for logins or online transaction authorization.
ASUSPRO Business Center for PC management in one simple package
Helping small businesses efficiently manage their PCs in one simple package
ASUSPRO Business Center, a simple, one-stop security and productivity solution specially designed for small businesses without a managed IT environment. It has been specially designed for small businesses that do not have a managed IT environment, simplifying management and maintenance so you can focus more on your business.
USB 3.0 and USB Charger+ for ultra-fast transfer speeds and quick charging
BU201 ships with USB 3.0 ports as standard, delivering up to ten times the transfer speeds of USB 2.0. Exclusive ASUS USB Charger+ software charges smartphones, media players, and other portable devices even when the notebook is powered off or in sleep/hibernate modes — in a fraction of the time it would normally take.
Wake-on-LAN (WOL) allows PCs to be turned on remotely via the network
ASUSPRO BU201 has built-in support for Wake-on-LAN (WOL) technology. This allows it to be powered on or woken from sleep mode by a network message over a LAN or WAN connection. This feature is invaluable for remote PC maintenance and support.
Attribute
Value
Operating System
Windows 8.1 Professional 64bit
Windows 7 Professional , 64bit (as a downgrade from Windows 8.1 Pro)
Processor
CPU: Intel® Core i7 4510U Processor
GPU: Integrated Intel HD Graphics 5000
Memory
DDR3L 1600 MHz SDRAM,
OnBoard Memory: 4 GB ,
1 x DIMM socket for expansion up to 12 GB SDRAM
Storage Capacity
2.5" SATA3
500GB HDD 7200 RPM
Camera
HD Web Camera
Connectivity
WLAN: Integrated 802.11 a/b/g/n or 802.11 ac (WiDi)
Built-in Bluetooth V4.0
4G LTE
Interface
1 x Microphone-in/Headphone-out jack
1 x VGA port/Mini D-sub 15-pin for external monitor
3 x USB 3.0 port(s)
1 x RJ45 LAN Jack for LAN insert
1 x Docking Connector
1 x mini Display Port
1 x Smart Card
1 x SD card reader
1 x Micro Sim card slot
Sound
Built-in Speakers And Microphone
SonicMaster Lite Technology
Built-in Azalia compliant audio chip, with 3D effect
MaxxAudio support
Power
Battery: 4200 mAh 32 Whrs

Power Adapter:
Output: 19 V DC, 3.42 A, 65W
Input: 100 -240 V AC, 50/60 Hz universal
Product can be returned within 48 hours of delivery
24 months warranty
You need to login to make a review