You are here:
A Surge in Data Transfer Performance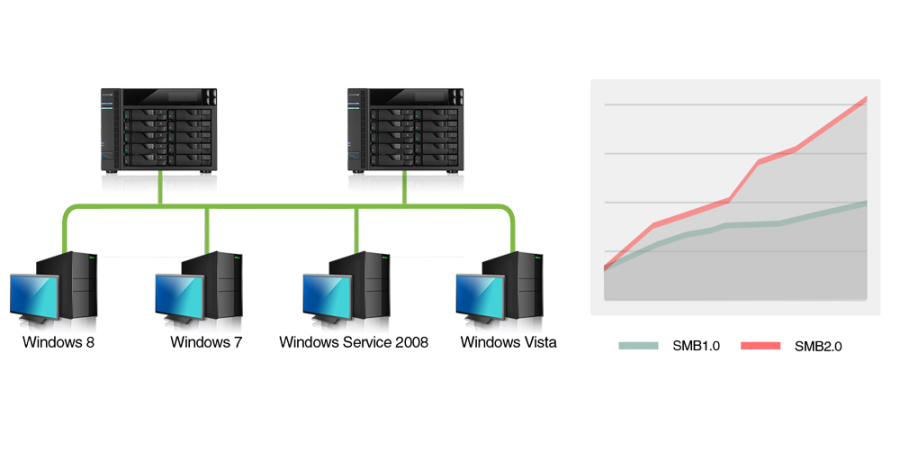 ADM 2.3 supports SMB 2.0 which reduces the burden of network traffic on the NAS while simultaneously providing greater data transfer capacity.In the ASUSTOR testing environment, SMB 2.0 was found to increase Windows networking performance by 30%-50%*. SMB 2.0 also significantly increases the number of concurrent Windows client connections and simultaneously open files, making ADM 2.3 even more suitable for large-scale Microsoft network environments.
* Actual performance may vary due to differences in the installation environment. SMB 2.0 is supported in Windows Vista and later versions of the Microsoft Windows operating system.
Advanced File Permissions Management - Windows ACL
For IT professionals, file permissions configuration is a very important topic, especially in enterprise environments. Because the native Linux system file permission mechanisms are different than those in Windows, in the past, IT professionals had to create a separate set of permissions for files stored on NAS servers. This also limited the number of permission configuration options that were available to them.
In order to help IT professionals simply their work, ASUSTOR has comprehensively integrated Windows ACL into ADM. Windows ACL provides a set of 13 different permissions settings, allowing administrators to configure permissions for individual files and folders that can be applied to different groups and users. Windows ACL permissions can be configured from within ADM's File Explorer or Microsoft Windows Explorer allowing administrators to easily manage permissions using familiar methods.
Optimized Cooling Design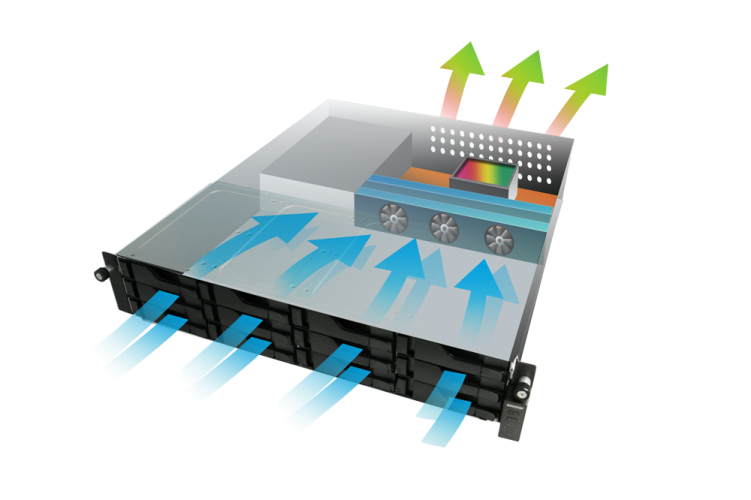 When there is a high load on the NAS, the CPU will begin to heat up, affecting the stability of the system. A common way of dealing with this is to lower the CPU frequency which will then cause the temperature to decrease. However, this will also lower the overall performance of the system.
ASUSTOR's 70 Series devices utilize fans with wide speed ranges combined with a smart speed control mechanism that allows the CPU to maintain a controlled operating temperature even under high loads. Under most circumstances the fans will operate at a low speed, conserving energy. When the system load and temperature increases, the fans will automatically increase their speed to cool the CPU without it having to lower its frequency. This allows the NAS to maintain stability and high performance even under high loads.
Enterprise Backup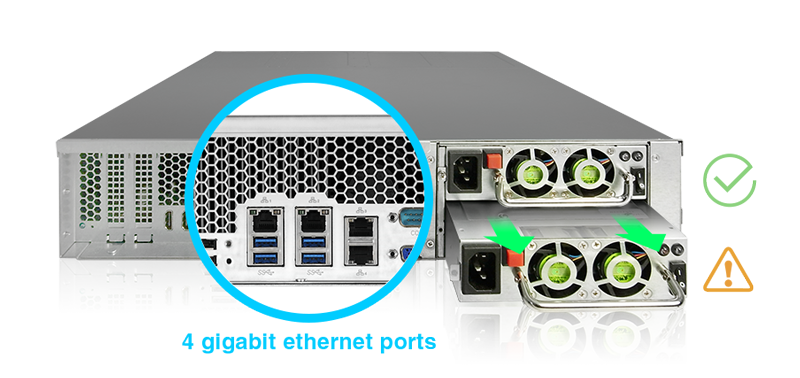 The AS7009RD / AS7009RDX features comprehensive backup solutions. The built-in redundant power supply and 4 Gigabit Ethernet ports effectively increase reliability, data integrity and execution speeds. The Ethernet ports and power supply all feature failover capabilities (when one fails, the other can continue to operate) in order to ensure for continuous data availability.
Even More Reliable After-Sales Service
ASUSTOR has extended the warranty period on all of its products to three years, continuing to make customer service a huge priority. It is ASUSTOR's mission to continue to provide its customers with products of the highest quality along with only the most reliable and attentive after-sales service and technical support.
Secure Disk Tray Lock Design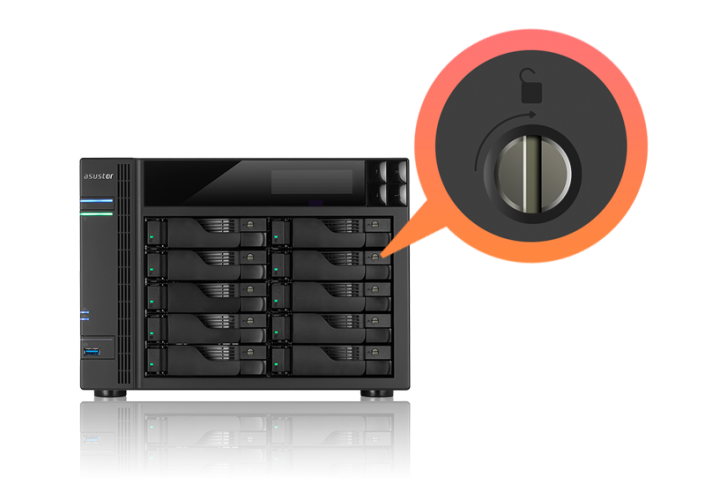 In order to help users avoid accidentally pushing disk tray buttons and releasing hard disks during operation, ASUSTOR has added a new lock mechanism to its hard disk trays. The lock's flat-head design ensures that users will not need any special keys or tools to unlock it, only a simple flat-head screw driver. The new disks trays can be used with all ASUSTOR NAS devices, providing an additional layer of security for applications requiring the frequent swapping of hard disks (e.g., MyArchive).
Create a Stable, Reliable and High Quality Surveillance System
The powerful 70 Series devices provide you with stress free reliability when installing a surveillance system in your home or office environment. Installing the Surveillance Center App from App Central instantly turns your NAS into 24/7, high definition surveillance system. Surveillance Center provides comprehensive cross-platform support, allowing both Windows and Mac users to use familiar web browsers to access their surveillance feeds. Furthermore, ASUSTOR also offers the free AiSecure mobile app that gives users access to all their surveillance feeds while on the go. AiSecure also provides the ability to receive instant push notifications from Surveillance Center, allowing users to keep up with the latest developments. No matter if you need to protect individual assets, loved ones or your business, the powerful 70 Series devices are your optimal choice when creating a comprehensive surveillance system.
*Surveillance Center comes with 4 free IP camera channel licenses, which is higher than the industry standard. Users can also purchase add-on camera licenses to flexibly add new camera channels.
*Two different camera license packages are offered: single channel and 4 channels. Currently, the 70 Series devices can be expanded up to a maximum of 16 channels.
*The maximum number of cameras is based on the test results for each channel using 720P (1280x720), 30 FPS and H.264. Actual performance may vary due to camera settings and NAS load.
*In order to provide stable surveillance system resources, the local display function will be shut off after the NAS has enabled add-on licenses.
Attribute
Value
Software
Operating System: ADM 2.0 Onwards, Built-in App Central for Various Apps

Supported OS:
Windows XP, Vista, 7, 8, Server 2003, Server 2008, Server 2012
Mac OS X 10.6 Onwards
UNIX, Linux, and BSD
Memory
4GB UDIMM DDR3 (Expandable. Max 32GB)
HDD: 2.5" / 3.5" SATA II/ III or SSD x 9 (not included)
Processor
Intel Core i3 3.5GHz Dual-Core Processor
Connectivity
Network: Gigabit Ethernet x 4
Expansion: for optional 10GbE card and SAS card
Output: HDMI 1.4a x 1

Supports USB/eSATA3 External Storage Devices
USB Wi-Fi Dongle Support
Bluetooth Dongle/Speaker Support
USB Printer Support
USB DAC/IR Receiver/Keyboard/Mouse Support
Network Support
TCP/IP (IPv4 & IPv6)
Link Aggregation: Supports 802.3ad and Six Other Modes for Load Balancing and/or Network Failover
Jumbo Frame (MTU)
VLAN
Cloud Connect
Wireless Network
DDNS and EZ-RouterCompatibility
Supports Wake-on-LAN (WOL)

Network Protocols:
CIFS/SMB, AFP, NFS, FTP, WebDAV, Rsync, SSH, SFTP, iSCSI, HTTP, HTTPS, SMB 2.0*, TFTP*, Proxy*
Power
Input Power Voltage: 100V to 240V AC
Power Consumption: 103W (Operation)
53.9W (Disk Hibernation), 4.09W (Sleep Mode)
Product cannot be returned once delivered
You need to login to make a review