You are here: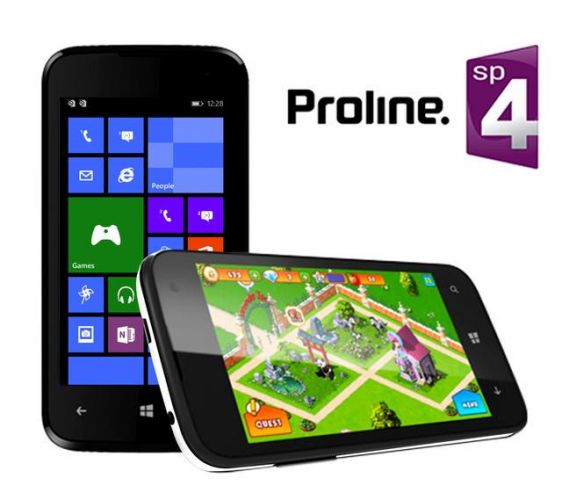 The Proline SP4 breaks out of the mold by getting more than entry-level performance at an entry level price. With a vibrant 4" display, quad-core Snapdragon processor and and super smooth Windows Phone 8.1 user interface, the Proline SP4 runs circles around many smartphones, that cost a good deal more.
What really sets the SP4 appart form its competitors is the Dual-SIM feature. Users are now free to choose how they use voice and data on thier phone with the ability of having two SIMs active simultaniously and specifying which SIM is dedicated to cellular data usage. Its like having two phones in your pocket!
The Proline SP4 is a highly customisable phone offering users the ability to personalise the Start screen to a far greater extent than phones using other operating systems. There are even three covers included with each phone (white, orange and green) allowing users to match the phone to their personal preferences.
Poor battery life is a regular problem with smartphones, especially heavy users of voice, data and GPS. At 1,950 mAh the Proline SP4 has the largest battery in its class, 30-35% more than competing products.
Consumers looking for something fun and fresh will not be disappointed with the Proline SP4, especially with the bright cover options and funky user interface. Whether its playing your favourite games, sharing selfies on social media using the front-facing camera or capturing high resolution images with the 5MP rear camera, the Proline SP4 will quickly become your most trusted digital companion.
Microsoft works best with Microsoft, so the Proline SP4 is also the obvious choice for companies looking to standardise on a corporate-issued phone for integrating with their business applications.
Attribute
Value
Sim
Dual
Operating System
Windows Phone 8.1
Memory
RAM 512MB
Internal memory 4GB
Camera
Front (0.3MP) / Rear (5MP)
Main Camera resolution 5 Megapixels
Second Camera 0.3
Display
Touch sensitive Screen
4" WVGA (LED) 480 x 800 (233ppi)
Graphics : Adreno 302 GPU
Processor
Cortex A7 Quad Core, Qualcomm Snapdragon 200

Battery
1920mAh (8-10 hours talktime)
Connectivity
WLAN 802.11b/g/n
Bluetooth Yes
Micro USB 2.0 Port
Wi-Fi
3G
Product cannot be returned once delivered
You need to login to make a review