You are here:
14.1 Megapixels
Vivid and sharp images, even when they are enlarged
With 14.1 megapixels, you can capture clearer and sharper images that are low in noise and high in picture resolution, even when they are blown up to large sizes or cropped to focus on the subjects you desire.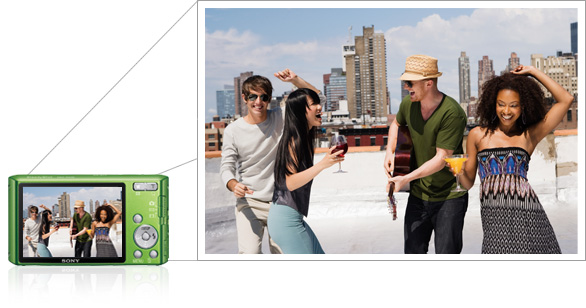 2.7(6.85cms) Clear Photo LCD
Admire your photos and videos
Through the large 2.7(6.85cms) Clear Photo LCD (230,000-dot resolution), you can appreciate your photos and movies with sharp, natural colours even in bright daylight. That's not all, during the shooting process, you can enjoy a clear confirmation of the scene composition and camera settings before you capture your subjects.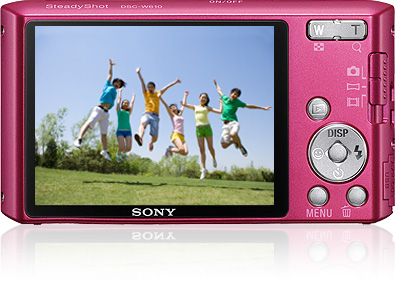 Specifications

Image Sensor
| | |
| --- | --- |
| Gross Pixels | Approx. 14.5 Mega Pixels |
| | |
| --- | --- |
| Effective Pixels | Approx. 14.1 Mega Pixels |
Lens
| | |
| --- | --- |
| Focal Length (f=) | 4.7 - 18.8mm |
| | |
| --- | --- |
| Focal Length (35mm conversion) - Still Image 16:9 | 28 - 144mm |
| | |
| --- | --- |
| Focal Length (35mm conversion) - Still Image 4:3 | 26 - 105mm |
| | |
| --- | --- |
| Focal Length (35mm conversion) - Movie 4:3 | 26 - 105mm |
| | |
| --- | --- |
| Focus Range (iAuto) | W: Approx. 4cm to Infinity, T: Approx. 60cm to Infinity |
| | |
| --- | --- |
| Focus Range (Program Auto) | W: Approx. 4cm to Infinity, T: Approx. 60cm to Infinity |
| | |
| --- | --- |
| Optical Zoom | 4x (Optical Zoom is not working during movie recording) |
| | |
| --- | --- |
| Precision Digital Zoom - Still Image | 14M Approx. 8x / 10M Approx. 4.7x / 5M Approx. 6.7x / VGA Approx. 27x / 2M (16:9) Approx. 9x |
LCD
| | |
| --- | --- |
| Screen Size | 2.7(6.85 cms) |
| | |
| --- | --- |
| Brightness Setting | Normal / Bright |
SHOOTING SPECS
| | |
| --- | --- |
| Image Stabilizer System | Electronic Image Stabilization (Blur Reduction) |
| | |
| --- | --- |
| Focus Mode - Multi-Point AF | Yes |
| | |
| --- | --- |
| Focus Mode - Center-Weighted AF | Yes |
| | |
| --- | --- |
| Light Metering - Multi Pattern | Yes |
| | |
| --- | --- |
| Light Metering - Center-Weighted | Yes |
| | |
| --- | --- |
| Light Metering - Spot | Yes |
| | |
| --- | --- |
| Exposure Compensation | +/- 2.0EV, 1/3EV Step |
| | |
| --- | --- |
| ISO Sensitivity Setting | Auto / 80 / 100 / 200 / 400 / 800 / 1600 / 3200 |
| | |
| --- | --- |
| White Balance | Auto / Daylight / Cloudy / Fluorescent / Incandescent / Flash |
| | |
| --- | --- |
| Shutter Speed | iAuto (1/8 - 1/1,600) / Program Auto (1 - 1/1,600) |
| | |
| --- | --- |
| Self-Timer | Yes (10sec / 2sec / Off / Portrait 1 / Portrait 2) |
| | |
| --- | --- |
| Flash Mode | Auto / Flash On / Flash Off / Slow Synchro |
| | |
| --- | --- |
| Flash Range | ISO Auto: Approx. 0.3 - 3.5m(W) / Approx. 0.6 - 1.8m (T) / ISO3200: up to Approx. 7.1m (W) / Approx. 3.7m (T) |
| | |
| --- | --- |
| Aperture | iAuto (F2.8 - F8.0) W, 2 steps with ND Filter / Program Auto (F2.8 - F8.0) W, 2 steps with ND Filter |
| | |
| --- | --- |
| Face Detection - Mode | Auto / Off |
| | |
| --- | --- |
| Face Detection - Face Selection | Yes (Key) |
| | |
| --- | --- |
| Face Detection - Max. No of Detectable Faces | 8 |
| | |
| --- | --- |
| Dynamic Range Optimiser | Standard / Plus |
SHOOTING MODE
Scene Selection
Compatible Recording Media
| | |
| --- | --- |
| Memory Stick Duo (Still Image / Movies) | Yes |
| | |
| --- | --- |
| Memory Stick PRO Duo (Still Image / Movies) | Yes |
| | |
| --- | --- |
| Memory Stick PRO Duo - High Speed | Yes |
| | |
| --- | --- |
| Memory Stick PRO HG Duo | Yes |
| | |
| --- | --- |
| Memory Stick Micro (Mark2) | Yes |
| | |
| --- | --- |
| Micro SDHC Memory Card | Yes |
STILL IMAGE RECORDING
| | |
| --- | --- |
| Stamina (Battery Life) | 250 shots / 125mins |
| | |
| --- | --- |
| 14M (4,320 X 3,240) 4:3 mode | Yes |
| | |
| --- | --- |
| 11M( 4,320 x 2,432) 16:9 mode | Yes |
| | |
| --- | --- |
| 10M (3,648 X 2,736) 4:3 mode | Yes |
| | |
| --- | --- |
| 5M (2,592 X 1,944) 4:3 mode | Yes |
| | |
| --- | --- |
| 2M (1,920 X 1,080) 16:9 mode | Yes |
| | |
| --- | --- |
| VGA (640 X 480) 4:3 mode | Yes |
| | |
| --- | --- |
| Sweep Panorama 360 (11,520 X 1,080) | Yes |
| | |
| --- | --- |
| Sweep Panorama Wide (7,152 X 1,080 / 4,912 X 1,920) | Yes |
| | |
| --- | --- |
| Sweep Panorama Standard (4,912 X 1,080 / 3,424 X 1,920) | Yes |
MOVIE RECORDING
| | |
| --- | --- |
| QVGA (320 X 240 / 30fps) | Yes |
| | |
| --- | --- |
| VGA (640 X 480 / 30fps) | Yes |
Product cannot be returned once delivered
You need to login to make a review