You are here:
Optimal price / performance ratio
Manage your data using File Explorer's Web-based interface
Listen to your music with Web music player SoundsGood
Support for RAID 0, 1, 5, 6, 10 and hard drive hot swapping
Support for a variety of mobile apps from ASUSTOR
Energy efficient and quiet operation
Better Price, Better Performance
ASUSTOR's ADM operating system combined with an Intel processor allows the 2 series to raise read and write performance to the max.
The 2 series also provides a total of 4 USB ports (2 x USB 3.0, 2 x USB 2.0) allowing you to simultaneously connect up to 4 external USB hard drives to expand your storage capacity.
Furthermore, AS-2TE series comes equipped with an HDMI port and audio jack allowing your NAS to transform into a multimedia player!
Quick and Easy File Access
The built-in File Explorer App allows you to access the files on your NAS through a Web browser. Enjoy drag and drop file transfers along with a directory structure view that lets you easily organize your data. Accessing files on your NAS never been easier.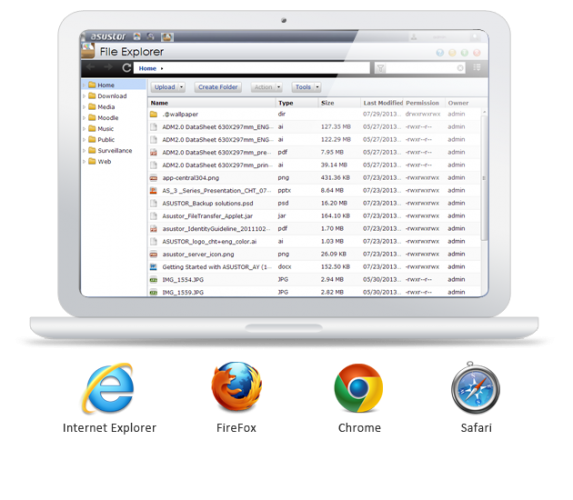 Backup Everything
No matter if you are using Windows, Mac or even Linux, ASUSTOR provides you with suitable backup solutions and protocols to help you backup all your data.
Windows Environment
ASUSTOR's exclusive Backup Plan utility lets you configure up to 6 different backup plans simultaneously. You can configure regularly scheduled backups of your important data and also sync the ever-changing files on your desktop to your NAS.
Mac Environment
ASUSTOR NAS supports Apple Time Machine backups allowing you to backup your Mac to your NAS. Different Mac users can also safely backup their computers to the same ASUSTOR NAS device.
Linux Environment
ASUSTOR NAS supports NFS/Rsync/SAMBA protocols giving you added flexibility when setting up your backup environment.
The NAS That's Always With You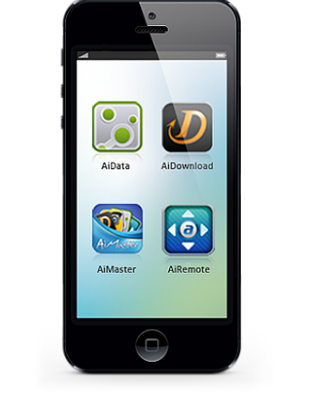 ASUSTOR offers multiple mobile apps that give you convenient access to your NAS while on the go.
Cloud data access from anywhere: AiData
Browse all the data on your NAS and even instantly share files from your NAS with friends.
One stop searching and downloading: AiDownload
Monitor any current download tasks on the NAS. As soon as download tasks are finished, your mobile device will be notified via push notification.
Stay up to date with your NAS: AiMaster
Via push notifications, you can always get a handle on your NAS system and backup status. Shutting down your NAS is also a breeze with AiMaster.
Your NAS multimedia player remote: AiRemote
Your mobile device can now become your remote control! Sit back and relax on your couch while you control media playback from your NAS with your mobile device.
Your Cloud, Your Size
ASUSTOR NAS features RAID technology which allows you to combine multiple hard disks into a single logical storage volume giving you both storage and data protection benefits. ASUSTOR NAS also supports online hard disk capacity expansion allowing you to swap in higher capacity disks while enjoying complete access to all your data.
RAID levels supported by ASUSTOR NAS: RAID 0/1/5/6/10
RAID levels that support online capacity expansion: RAID 1/5/6/10
Attribute
Value
Storage Capacity
Support Multiple Volumes with Spare Disks
Volume Type: Single disk, JBOD, RAID 0, RAID 1, RAID 5, RAID 6, RAID 10

Memory
RAM: 512MB DDR3
HDD: 2.5" / 3.5" SATA II/ III or SSD x 4 (not included)
Software
Supported OS:
Windows XP, Vista, 7, 8, Server 2003, Server 2008, Server 2012
Mac OS X 10.6 Onwards
UNIX, Linux, and BSD
Network Support
TCP/IP (IPv4 & IPv6)
Jumbo Frame (MTU)
VLAN
Cloud Connect
Wireless Network
DDNS and EZ-RouterCompatibility
Supports Wake-on-LAN (WOL)
Connectivity
Expansion: USB 3.0 x 2, USB 2.0 x 2
Network: Gigabit Ethernet x 1

Support for Online RAID Level Migration
Support for Online RAID Capacity Expansion
Support for Online RAID Capacity Expansion
Supports USB/eSATA3 External Storage Devices
USB Wi-Fi Dongle Support
Bluetooth Dongle/Speaker Support
USB Printer Support
USB DAC/IR Receiver/Keyboard/Mouse Support
Power
Input Power Voltage: 100V to 240V AC
Product can be returned within 48 hours of delivery
You need to login to make a review