Claim an offer - Online Shopping 101

The beauty of online shopping lies in the convenience that it brings – True. However, there are a lot other perks that come with online shopping and we often miss them. Online stores have always been known to offer freebies as a way of keeping their customers happy and therefore promoting customer loyalty. These freebies always come in various shapes and sizes – free gifts, free delivery, discounts, massive discounts, flash sales, holiday specials etc.
One may always wonder, how come I've never met such offers, and how do I actually use these offers in case I happen to stumble upon one? First things first, where do I get or how do I find these special offers. We will work one example of a special offer – the Discount Coupon. First of all, a Discount Coupon is a special code or card that enables you to purchase a product at a discounted price.
Discount Coupons are usually found on advertising media released by the store. Usually, this is through email newsletters, banners on website, newspaper ads, fliers and also through social media like Facebook pages, Twitter and many other sites. There are also other websites that are built specifically for listing Discount Coupons found from different online stores. Discount Coupons always come with a special code printed on them. This code is the one which you use to claim your discount. However, some coupons can be claimed in store and therefore there won't be a need for the code.
Claiming the discount online
If you happen to stumble upon a Discount Coupon to use online, then this is how you use them. But first, you have to read the terms and conditions for that discount coupon. Some coupons only apply to one product, some are valid for a limited time only, some coupons have a limit on how many times they can be used. Therefore, always check carefully the restrictions on the coupon to avoid disappointment when the coupon fails to work.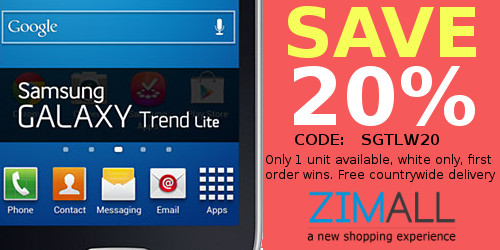 When you get a Discount Coupon and you are going to use it online, always take note of the Coupon Code as it the the most important part of the coupon. Without it, you will not be able to claim your discount. The next part is to identify the coupon restrictions. Checkout the coupon attached here (hint: this coupon is actually valid and if you try it out, you can get that Galaxy Trend Lite for only $88, which is 20% off the normal price of $110). With regard to this coupon, it's only valid when purchasing the Samsung Galaxy Trend Lite phone and if you read on the fine print, you will also note that there is only one unit available and therefore the first person to claim it wins the offer.
After identifying the product for which the coupon applies to, quickly visit the website to claim your price, in this case, it's
www.zimall.co.zw
. To actually get the discount, first add the item to cart, and then go to your shopping cart by clicking the shopping cart button / link. Now when you are in your shopping cart, scroll down and find a link which says "Apply Discount Coupon". Click on it and it should open up a small form to enter your coupon code. Type in in the coupon code and hit "Apply Coupon". If the coupon is still valid, you will get a message telling you how much you have saved, otherwise, good luck, try again next time when you find a new discount coupon.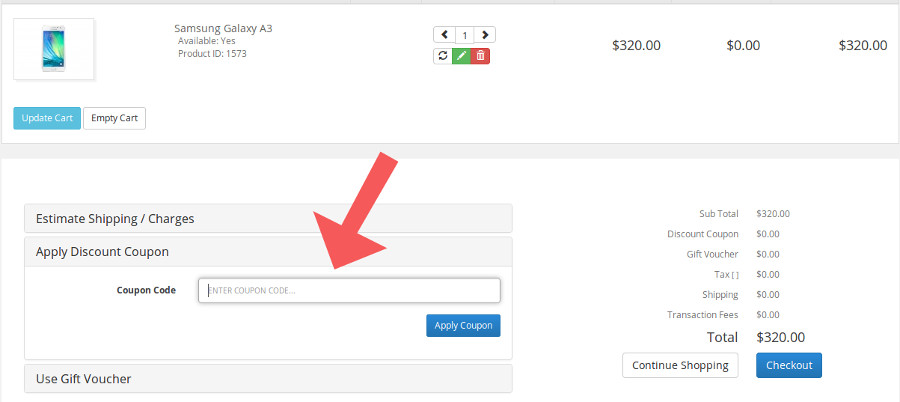 Now when you have applied your discount coupon, you are not guaranteed of getting the discount. You still have to complete the order and pay for it otherwise if someone else places their order before you, the coupon will become invalid. So without wasting any time, quickly hit the "Checkout" button / link and complete your order. The coupon will only be reserved for you when you have actually completed placing the order.
To get more discount coupons and special offers from Zimall, sign up for our newsletter, right at the bottom of this page and receive our weekly special offers and deals to your email. You can also like our
Facebook Page
to get special offers posted on Facebook.